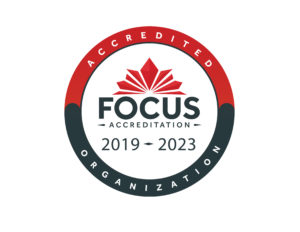 FOCUS Accreditation is pleased to announce that Community Care Peterborough has been successful in its effort to be accredited by FOCUS Accreditation for four years from May 2019 – May 2023.
Powered by volunteers and staff, Community Care Peterborough supports the health and wellbeing of individuals, caregivers and communities through a network of eight offices throughout the city and county of Peterborough.
FOCUS Accreditation looks at all aspects of how an organization provides services – from how people are supported to the effectiveness of the operations.  FOCUS Accreditation sent a team of five people to review Community Care Peterborough's services onsite, for four days on April 8 – 11, 2019.  The team observed how services were provided, reviewed data, and collected input from various people who have a stake in the services being provided.
One of the many strengths identified at Community Care Peterborough by the FOCUS Validators was: Volunteers play an instrumental role in providing services and fulfilling the mission of Community Care Peterborough. Over 800 volunteers donate a total of 100,000 hours each year. This is equivalent to 58 full-time staff. Each volunteer contributes to the success of Community Care Peterborough.